Robert Pace Curriculum Piano Teacher Training
Sun.-Tues.  July 30, 31, August 1, 2017
9:30 a.m. -3:30 p.m.
Group Piano Level 1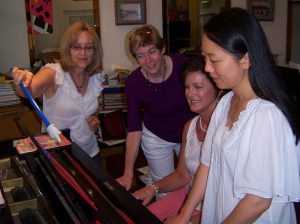 This course focuses on the concepts presented in the Robert Pace Level I books. Learn how to integrate theory right from the beginning, as well as how to develop all music skills simultaneously (ear training, sight reading, technique, improvisation, transposition, and theory) through the repertoire studies. Learn how to create a buoyant, creative atmosphere in each lesson. Learn how to facilitate good peer teaching and cooperative learning. Discover what it means to teach music concepts and how doing so will create an upward pattern of spiral learning, and develop independent learners who will become lifelong music participants. Level I curriculum concepts include: steps and skips, up, down, same, patterns, repetitions, sequences, parallel and contrasting question and answer phrases, 5 finger patterns, I and V7 chords, waltz style, alberti bass, broken chords, march, dorian, pentatonic, roving triads, passing tones, upper and lower neighbors, tetrachord scales, major and minor key signatures, parallel and contrary motion, down up phrasing, staccato vs. legato, and many more.
We will address good business guidelines including how to market and expand your student clientele, establish studio policies, and the importance of maintaining personal professional growth.
Presenter:  Julie Lovison
The Lake Shore Music Studio
1460 N. Sandburg Terrace
Chicago, IL  60610
312-335-8426
LSMSPiano@aol.com
Tuition: $295
Plus cost of materials:
Robert Pace Music For Piano, Creative Music, Theory Papers and Finger Builders
Teachers completing the course receive IPTF certificate and listing on LeeRobertsMusic website.